Why the secret to success lies in community
On 20th April I launched my 30 day programme Spring Reboot 2020. Frankly I have been blown away by the success of this amazing group of people.
From a variety of backgrounds, the common theme was that they wanted to take control of their health. Some were looking for help losing weight, some wanted to have more energy, some wanted to stop feeling at the mercy of their hunger. All of them were ready to commit to better habits and better health.
We are 3 days from wrapping up and the participants have "exceeded all their own expectations", their words not mine!
They have;
Improved their sleep
Become hydrated – and with that comes better appetite control and brighter skin
Lost between 6 and 17.5cm each (and we haven't even taken the final measurements yet!)
Gained confidence
Built new habits
I am so delighted for this amazing group of people, they have done so well and achieved so much in just 30 short days. The secret to their success – community.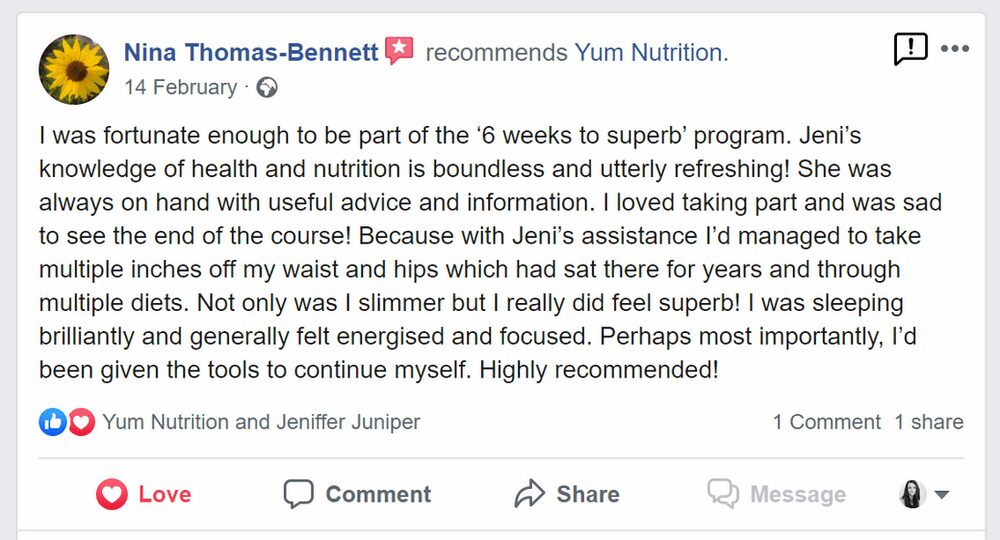 It's never plain sailing when you are looking to change your life, whether that is starting exercise, losing weight or dialling in new habits, if you do it with others then you are statistically proven to be more effective and to maintain your success after the group has finished.
So in light of the success of this and my 6-week programme "6 Weeks to Superb" I am launching a membership group;
Eat Well, Live Well, Feel Amazing
This group will include:
✔ Monthly interviews with Health Experts via Facebook Live
✔ Fortnightly simple, healthy AND delicious recipes
✔ Monthly nutrition/lifestyle emails to help you to level up your health
✔ Exclusive member discounts for events, e-books, one to one nutrition consultations, quarterly health challenges and more
All of this will be available to you for just £9.99 per month
You can cancel anytime, without obligation!
If you would like to join us then you can sign up here: https://www.subscribepage.com/membership_waiting_list